Filter by Category
E5 - CAT: Group Counseling Skills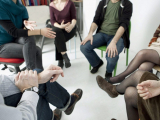 Registration Unavailable
NACCTP: Group Counseling Skills
with Ryan Kennedy, PsyD, LP, LAC, MAC, RN, ACS

Nov 28, 2022 at 9 am
DESCRIPTION: Group therapy is a powerful tool in delivering addiction treatment services. Groups have many therapeutic elements and effects that draw people into the culture of recovery. Groups provide useful information, allow one or two therapists, depending on group size, to facilitate the group process which helps a number of clients simultaneously, and provides positive peer support and pressure for recovery. This class will help the aspiring addiction counselor to understand the use of group therapy in the addiction treatment field and be able to demonstrate the skills necessary to facilitate a therapy group. The class will focus on the group process and will discuss diversity within groups as well as the many challenges a group leader may face. The class will also present models of effective group practice. Additionally, this and all addiction counselor classes seek to enhance the ability of the counselor to offer treatment services in a manner that respects gender, race and ethnicity, sexual orientation, cultural, familial, systemic, and socioeconomic diversity. NOTE: This class can be taken independently, as a required course for CAT/CAS/LAC credentialing, and also as part of the Noeticus Professional Addiction Counselor - Certification Program™ (NPAC-CP).
DATE: November 28, 29, and 30, 2022 (Monday, Tuesday, & Wednesday).
TIME: 9:00 am to 5:30 pm.
CE CONTACT HOURS: 21.0 Contact Hours.
CE APPROVALS: DORA, NAADAC, NBCC; Applicable to CAC/LAC Credentialing.
RECOMMENDED TEXT: Participants may find it helpful to read the Handbook for Addiction Counselors (CAC/LAC), available HERE.
CLASS CATEGORY: CAT Class.
OBH REQUIRED INSTRUCTOR: No (May Apply for Educational Equivalency).
PREREQUISITE(S): CAT/CAS = Addiction Counseling Skills; LAC = N/A (Not Required).
PAYMENT PLAN: A payment plan can be established through the online registration process.
DISCOUNTS: Groups of 3+ = Save an Additional 10%; Military/Veterans = Save an Additional 15%; Graduate Students = Save an Additional 20%; BBIPOC/LGBTQIA+/Social Justice Rate = Save an Additional 25%; Noeticus Staff/Former Staff = Save an Additional 30% (Only One Category Available; Discount Provided Automatically at Check-Out).